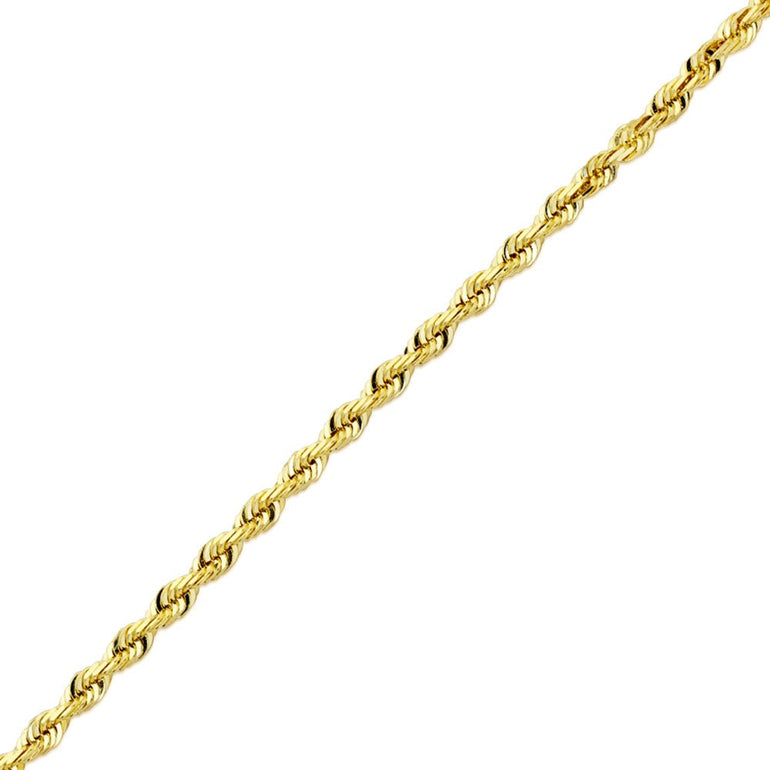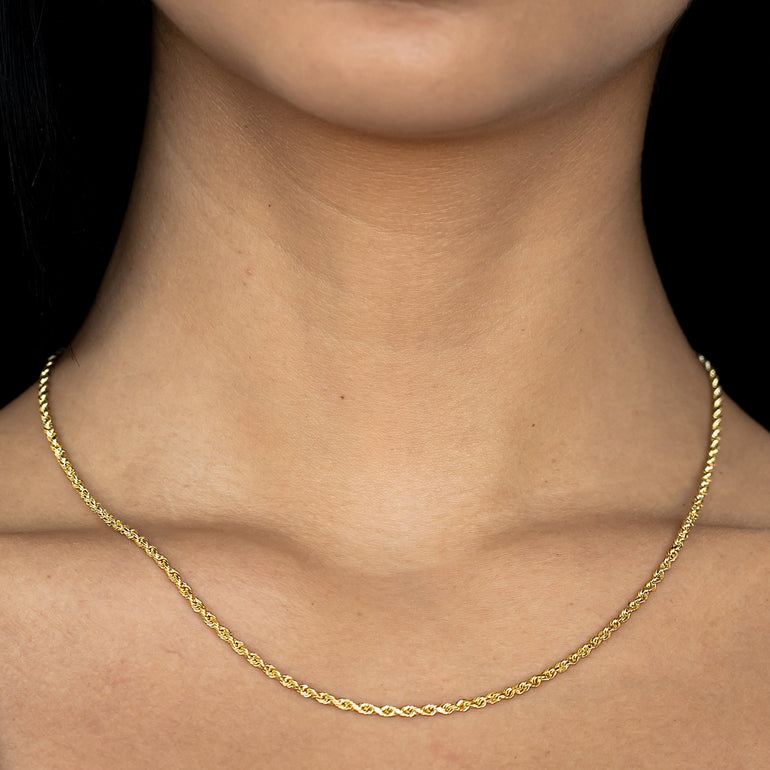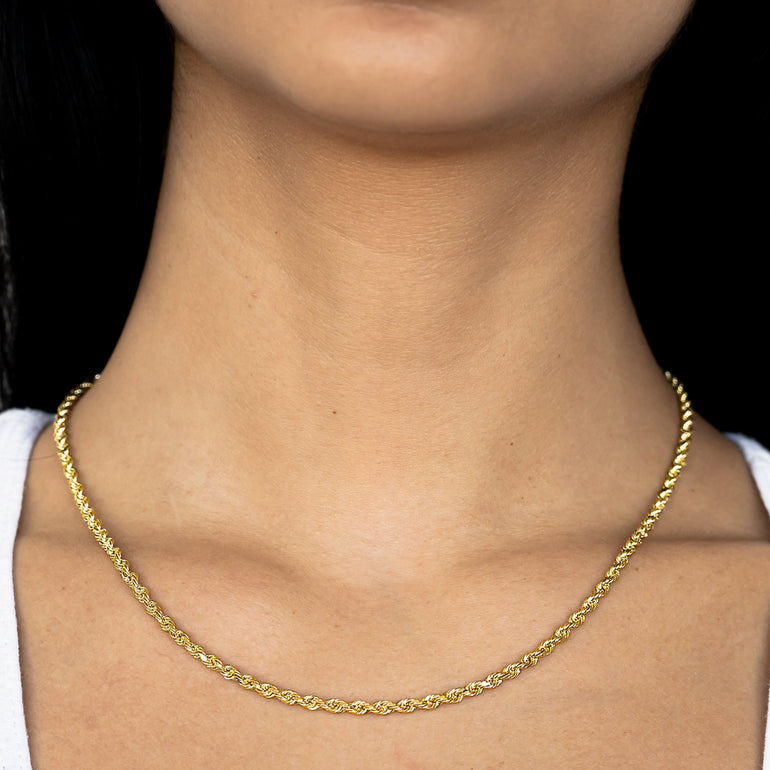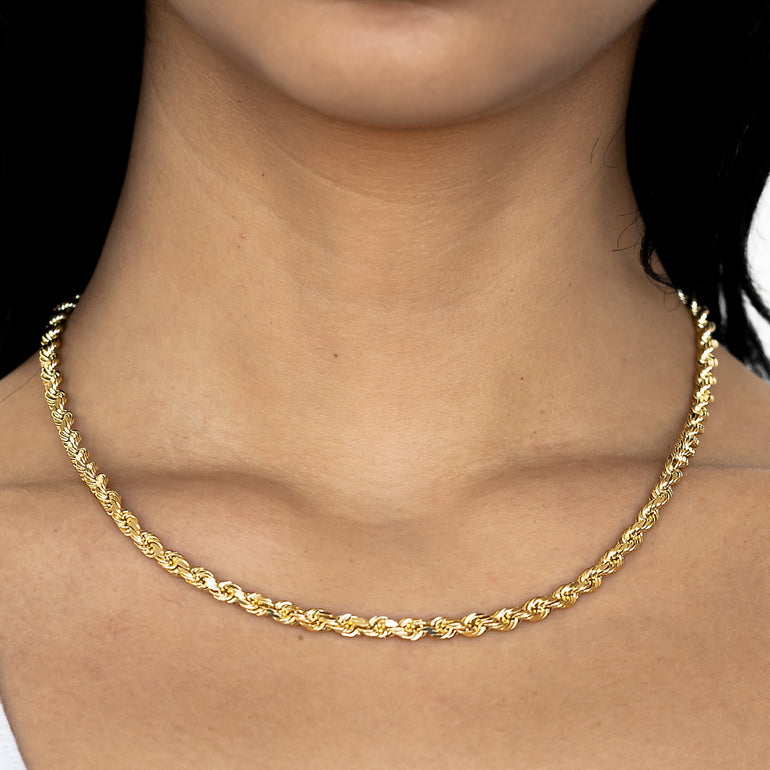 14k Women's Yellow Gold Solid Diamond Cut Rope Necklace
Free Shipping On All Orders
Description
14k Women's Yellow Gold Solid Diamond Cut Rope Necklace. Crafted from high-quality 14k yellow gold, this necklace features a stunning diamond-cut rope design that sparkles in the light. The solid construction and sturdy lobster lock clasp provide a comfortable and secure fit, making this necklace perfect for everyday wear or special occasions.
BlingCare Warranty
Protect your investment and enjoy peace of mind with our comprehensive Jewelry Warranty. For only 10% of the purchase price of the item, our warranty covers normal wear and tear and offers repair or replacement of equal value for 5 years from the date of purchase. Plus, our warranty lasts 10% longer than most standard jewelry warranties, giving you extra coverage and protection. Please note that our warranty is non-transferable and does not cover damage resulting from misuse, accidental damage, loss, or theft of the item. Purchase with confidence and enjoy your jewelry for years to come.
FAQ
We believe that luxury should be accessible to everyone, which is why we offer affordable pricing and cut out the middlemen.
Our commitment to authenticity and quality means that all our jewelry is made from real gold that is never plated or filled.
To make the experience even better, we offer free shipping on all orders.
We stand behind our products and offer hassle-free returns and exchanges within 30 days of purchase, giving you peace of mind with every order.
We believe that great customer service is key to building lasting relationships, and our team is always ready to help with any questions or concerns you may have. Your satisfaction is our top priority.
---
NO MIDDLEMEN,
LUXURY DIRECT.
Jewelry as unique as you. We eliminated the middlemen to reduce costs, bringing luxury directly to you. Crafted for the culture, our authentic gold jewelry is never filled-never plated and made in Los Angeles. Experience accessible luxury for all.
14k Women's Yellow Gold Solid Diamond Cut Rope Necklace
Frequently Asked Questions
Do you offer extended warrantys... I'm rough on my jewelry.
Adding BlingCare to your purchase can give you that extra peace of mind. This 5-year warranty covers damage, wear and tear, and jewelry repairs at the time of purchase, so you can rock your jewelry for the next five years without worry. It's an optional purchase, but definitely worth considering.
Do you offer Refunds?
Yes, We offer full 30-Day refunds. Please see our refund policy for more information.
How long does it take to get my order?
Order delivery typicaly can take up to 3-5 business days.

DIFFERENCE BETWEEN 10K AND 14K GOLD?
Gold jewelry is usually made in 10K and 14K alloys because pure gold (24K) is too soft for jewelry. Pure gold can easily dent, scratch, and bend, which makes it unsuitable for everyday wear. 14K gold has 58.33% gold, while 10K gold has 41.67% gold. To make gold stronger, other metals like zinc, nickel, or copper are added to form 10K or 14K gold chains. 10K gold is 41.7% pure gold and 58.3% alloy, which makes it the strongest variety of gold.
YELLOW VS. WHITE VS. ROSE GOLD
When it comes to jewelry, the most popular color for gold is its natural yellow shade. However, white and rose gold are also frequently used. White gold is created by combining yellow gold with a white metal like silver, palladium, or platinum. Occasionally, white gold is plated with rhodium to make it even more radiant. On the other hand, rose gold, which is sometimes referred to as red or pink gold, is formed by combining gold with copper, giving it a reddish tone.
CARE OF GOLD
Gold can last a lifetime with proper care and maintenance. However, it's important to take precautions when cleaning it. Harsh cleaning chemicals like vinegar or chlorine bleach can tarnish gold, so it's best to wear gloves to protect both the gold and your skin. Additionally, gold jewelry should not be worn in swimming pools or spas since chlorine is present in these environments. To clean gold jewelry, mix a few drops of mild dish detergent in a bowl of warm (not hot) water. Soak the jewelry for a few minutes, then use a soft-bristled brush to gently scrub it before drying it with a polishing cloth.